Conservatories in Stafford to Improve Your Home This New Year
At the start of a New Year we all like to reflect and make plans. If you are considering making improvements to your home, how about one of our fantastic conservatories in Stafford? Investing in a conservatory is a cost effective way of adding living space and value to a home. We will assist you throughout the process from initial enquiry to installation and quality control.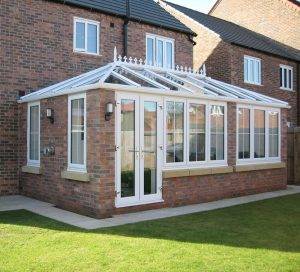 Conservatories in Stafford Create Adaptable Spaces
A conservatory is a unique and distinctive space which can add value to your property and your way of life. We have four styles of conservatories in Stafford so you will find the perfect match to your home and budget.
A conservatory is an adaptable space which bridges the interior and garden of your home. Light and airy, you have a space to sit and relax or dine with family and friends all year round. Surrounded by glass you can enjoy your garden without having to worry about changes in the weather!
You can be assured of a high quality service and construction. For piece of mind, our conservatories are guaranteed for 15 years and we will check the condition of your conservatory on an annual basis for five years following the completed installation. We understand that a conservatory is an important purchase and you will receive the best standards of workmanship from C & W Direct.
Get a Free Quotation for Conservatories in Stafford
It is easy to get a free quotation for conservatories in Stafford. Simply fill in the form and we will be in touch to find out more about your requirements and send you a free quote. If you have any queries about conservatories, windows, doors and any of our products and services, please don't hesitate to contact us. We look forward to making a big difference to your home in 2018!